As discussed in previous articles, Patriot Front is a neo fascist and white supremacist group that is obsessed with branding and optics. The group initially splintered off of the Neo-Nazi organization Vangaurd America after their disasterous stint at the Unite the Right rally, and have since tried to distance themselves by maintaining an entirely new aesthetic. The organization espouses a neo-fascist and white supremacist version of American nationalism, and uses a mix of american patriotic imagery and fascist symbolism in its propaganda. The group mostly participates in mundane activism like placing fliers, stickers and banners in public areas or organizing the occasional flash march. These events are always short lived and take place in the dead of night to avoid scrutiny by counterprotestors. Typically these heavily choreographed flash marches only take place so the group can then use them as propaganda to recruit new members. 
Recently the independent media collective Unicorn Riot released a trove of data revealing the inner workings of the group. The leak revealed an organization that is micromanaged by its current leader Thomas Rousseau. The group is heavily top down and hierarchical, with patriot front chapters around the country being split into networks, with each network having a "director" that reports directly to Rousseau. The leaked chats also reveal a coordinated effort to vandalize monuments and murals dedicated to social justice movements, which could be construed as hate crimes. This sort of behavior is not new to the group, which has frequently targeted synagogues with its propaganda in the past. 
This brings us to Nicholas Wolfgang Kaufman aka "Mark PA" in the  leaked Rocket chats. Nicholas is by all accounts a newer member of the group, having gained access to its rocket chats in november 2021. From what we know about Nicholas he was a former division 3 football player at Kings College in Maryland, having played the linebacker position and recorded a measly season high of 2 tackles.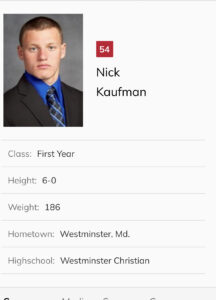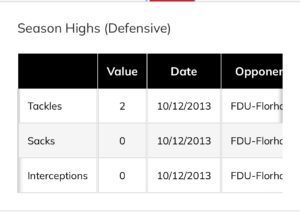 In his relatively short stint in the chat logs, Nicholas was an extremely active member of the group, posting numerous fliers and stickers across the Philadelphia metro area and the Lehigh valley.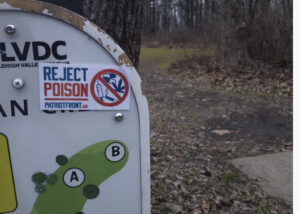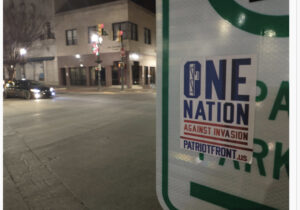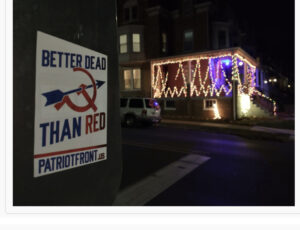 It is worth noting the PA chapter of Patriot Front had also previously vandalized an "anti-hate" mural in Boyerstown, Pennsylvania. While it is unclear if Nicholas had participated in the vandalism or if he had even applied for the group by the time it had happened, it shows that the chapter has willingly participated in hate crimes in the past. 
On December 4, 2021 Patriot Front members held a short lived "flash march" in Washington DC. While most of the group carried American flags with Patriot Front's logo (A fasces with thirteen stars around it), some also carried metal shields and wore shin guards in an apparent attempt to defend themselves from counter protestors.  After about an hour of marching on the Capitol Mall, the group of fascists found that their Uhauls were nowhere in sight due to logistical problems caused by antifascist infiltration. The 200 or so Patriot Front members stood in the cold December weather for several hours before U-hauls could pick them up. The morning before the event the group's shield team drilled and practiced their formations for the upcoming event (which they do completely wrong). Nicholas aka "Mark" could be seen standing next to other PA Patriot Front members holding a large metal shield.
From what we can gleam Nick graduated from Kings college with a degree in Physicians assistant studies and now works for Lehigh Valley Hospital in Bethlehem Pennsylvania. They can be reached at (610) 402-8900